Broadway Inn, Yankton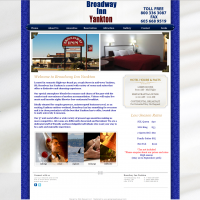 Located in romantic Highways 81and 50, at 15th Street in mid-town Yankton, SD, Broadway Inn Yankton is a motel with variety of rooms and suites that offers a distinctive and charming experience.
Our special atmosphere blends the romance and charm of the past with the comfort and convenience of modern accommodation. Visitors will enjoy live music and karaoke nights likewise free continental breakfast.