[njwa_button id="872"]
Online Shopping Cart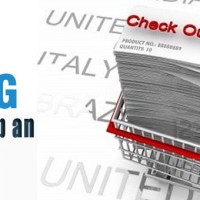 For a lively shopping experience shopping cart is a very important tool. Using this tool the user can collect all the things that he wants to purchase and at the end of his shopping spree, can buy it all. On the completion of the selection the tool displays the total amount payable. So, to make your e-commerce website a "complete hit" contact our team of experts now.
Let's go through a quick summary of a shopping spree through a website.
In the first step, the customer looks through the catalog provided by the seller on the website and views their details
After going through all the items on the website the customer decides on the items he wants to purchase, after he conducts a thorough research by comparing prices on the basis of brand names, quality & other such standards.
Once the consumer has decided on the items to be purchased, the seller provides him with an "order form" this contains all such details as record of all items selected, individual prices, total prices including shipping and handling charges, etc.
Next is the phase of "means of payment" selection. These generally include credit cards, checks etc.
After all such selections, the customer sends fully filled order form back to the seller.
Now, the seller requests for authorization of payment medium from the customer's bank.
After receiving the authorization, he sends a confirmation of the order transaction, along with the shipment and payment details.
Then he ships the commodities according to the order details.
Finally, the seller requests for payment from the customer's financial institutions.